Accurate Scale and Food Machine
Accurate Scale and Food Machine offer a wide range of services. We sell, service, and repair food equipment. We carry a good stock of aftermarket parts for obsolete machines, loaner equipment readily available and more. Established in 1973 in Winnipeg, with over 40 years in business Accurate Scale continues a noteworthy history of reliable sales and service.       
Accurate Scale a Little History
Started by 3 friends who worked for Toledo Scale Corp., Accurate Scale Service has been in business since 1973. Since then, one partner has left the business and one has retired leaving Mr. Anthony (Tony) Fleming as sole owner. At present, not including Mr. Fleming, there are 2 part-time office staff and 6 service technicians employed by this active company. Between them, our technicians have over 100 years experience in the scale and food service industry and include graduates of university, community college and industry training seminars. Mr. Fleming himself has over 45 years experience in the scale and food machine service industry. With customers located from Kenora and Red Lake, Ontario ,all of Manitoba and into Saskatchewan we service equipment in shop and on-site and we do a steady mail-order business. We handle parts and service for almost every make and model of scale, printer and food handling equipment in use today. We sell new, we take trade-ins and we purchase used equipment and recondition them for resale.
Stock Supply and Service
We stock butcher and restaurant supplies such as knives, saw blades, meat grinder knives and plates, sausage making supplies and packaging equipment. Amongst our various services we offer sharpening for cutting edges and supply machine shop services. Our product base is very diverse as we are constantly looking for the most suitable equipment for our customers and the best deals from our suppliers. Our customers range from laboratories and hospitals to warehouses and grocery stores. We service everything from milligram lab scales to warehouse scales and small kitchen meat slicers to commercial dough mixers and vacuum packaging equipment.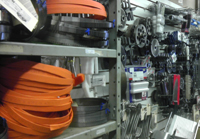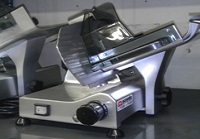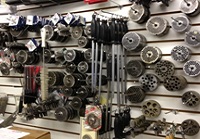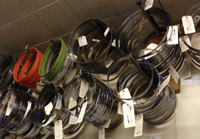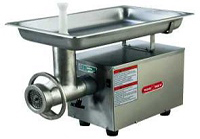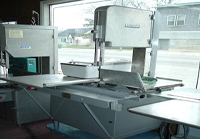 Thank You
Accurate Scale - Winnipeg
The "Atlanta Edge"...World's Best Cutting Edge For Meat Processing. View our sharpening, bandsaws, knives, and plates Price Sheet.